5 Free Social Media Scheduling Tools
---
Can you spend all of your time on social media? I don't think so.
For many years, social media has been an important part of digital marketing. Of course, just being on social media here and there isn't enough for your business to benefit. If you want to get the most out of your social media content, you should post often and consistently.
The process of planning ideas, writing/recording content, uploading and interacting with your audience takes a lot of time and energy. With the right tools, you can save time, create better content, and schedule posts.
To help you with your campaigns, we put together this list of our favorite free tools for scheduling social media posts.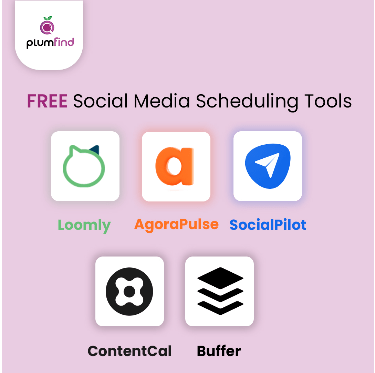 1. Loomly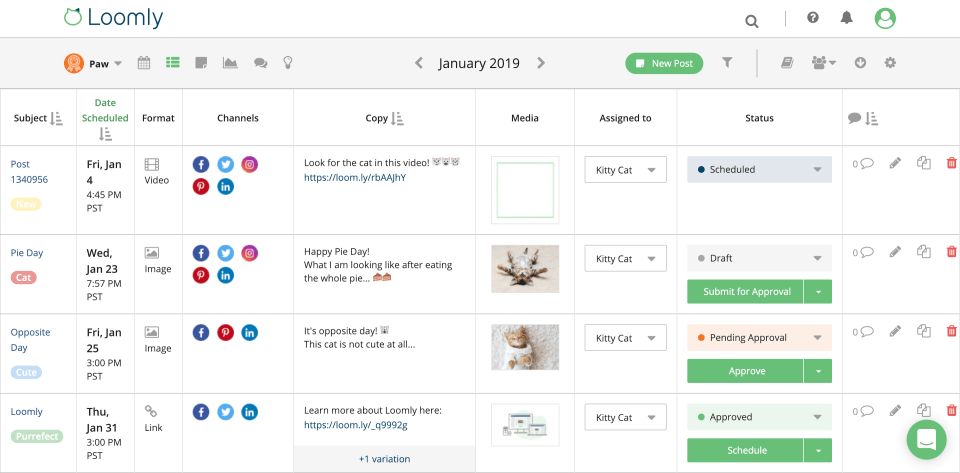 Loomly is a cloud-based marketing tool that helps freelancers, social media influencers, and social media managers organize their social media content. Among the most important features are marketing analytics, automated publishing, keyword filtering, managing multiple accounts, and scheduling posts.
Pros: Loomly works with Google My Business, YouTube, and Snapchat, so it's open to everyone.
This tool lets users handle all of their social media accounts in one place. This makes scheduling between channels easy. No matter what plan you choose, you can create and schedule as many posts as you want with Loomly.
Cons: Users of Loomly are often disappointed that the software doesn't let them post directly to Instagram or create Instagram stories.
2. AgoraPulse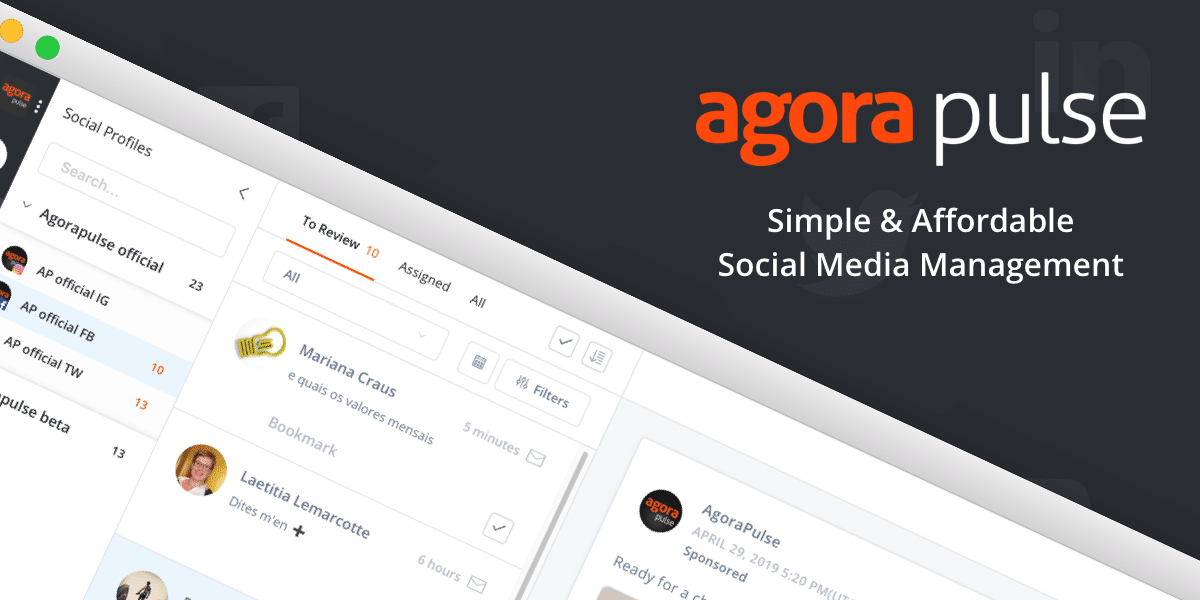 Agorapulse is a customer relationship management and scheduling tool for social media. It works with sites like Instagram, Facebook, Twitter, LinkedIn, and YouTube. Agorapulse also lets you schedule posts in bulk, have a single inbox, and get RSS feeds.
Pro: Agorapulse lets you tag your content so that it is easy to find and analyze it later. Using the Social Inbox, you can send messages to your clients with customized notes or comments. The built-in CRM feature helps you learn more about your audience.
Cons: Agorapulse doesn't have as many features as other social media sharing tools at a similar price point. It doesn't work with some storage and integration apps such as Dropbox, Google Drive, or Zapier. The user interface for Agorapulse is not very intuitive and needs a major makeover.
3. SocialPilot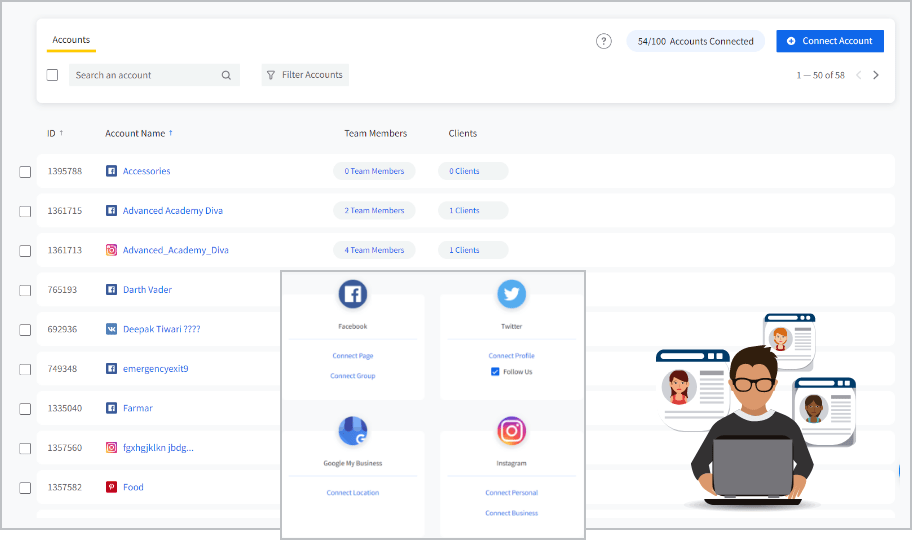 Teams and agencies frequently use the affordable social media scheduling tool SocialPilot.
Increasing community engagement and simplifying daily social media tasks are both possible with SocialPilot.
It offers a range of other powerful features that make it great for multiple types of businesses, from small businesses to marketing agencies to large corporations, and it covers basic social media functionality needs such as bulk post scheduling.
Pros: Clients can easily understand their reports thanks to the analytics feature. During the drafting process, you can tweak individual social platform posts without affecting the rest. Using this method saves a lot of time. Contributors can create drafts that must be approved by a manager, which is a fantastic feature.
Cons: There is a lack of analytics on Instagram. The free plan lacks some of the key functionality. The interface is a little outdated, but it is easy to use. The scheduling tool does not support drag-and-drop. Packages that cost a lot deserve more features.
4. ContentCal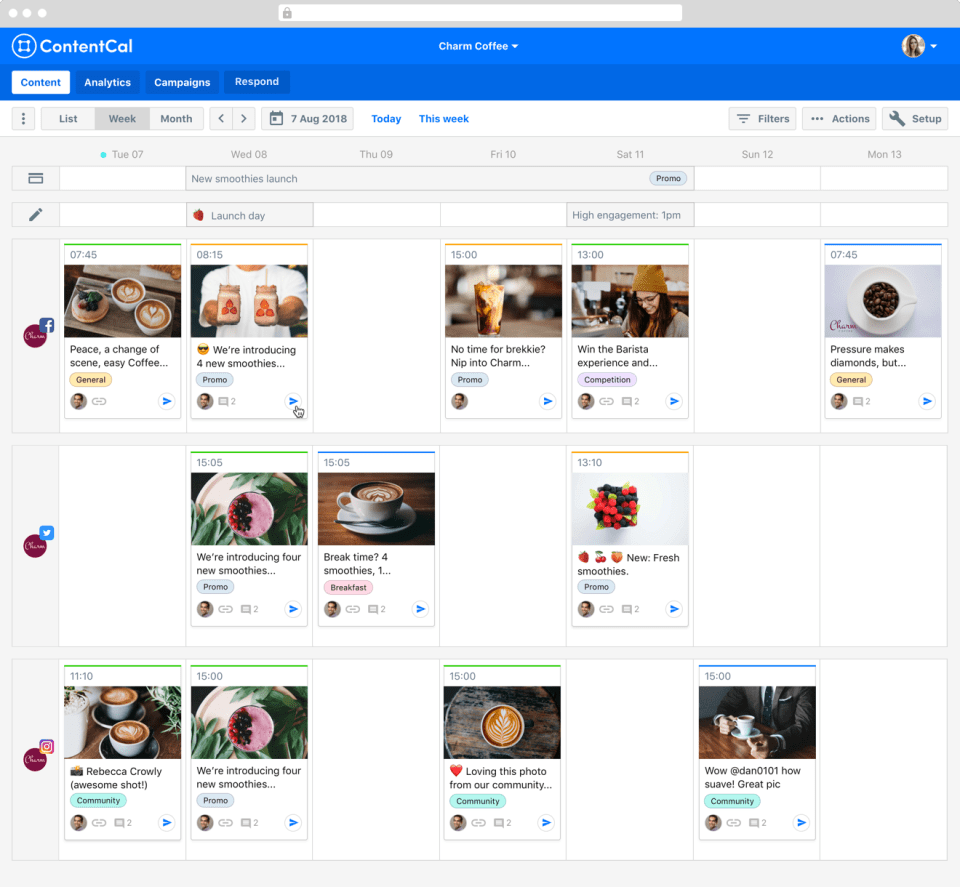 ContentCal is a social media management platform designed to help advertising agencies plan, create, and publish content across multiple networking platforms.
It enables businesses to quickly respond to customer queries by storing customer interactions in a centralized repository. And it works great for agencies and in-house teams.
Pros: The platform does an excellent job of scheduling your social media posts, making it a solid choice for content marketers. Due to its intuitive interface, you'll be able to create a productive workflow with ContentCal. Using ContentCal, you can create content drafts and approve them. Collaborating with other teams is also easy.
Cons: There is no option for monthly billing on the lowest plan. In order to get better customer support, you need to pay more. It would be useful if additional social platforms were supported.
5. Buffers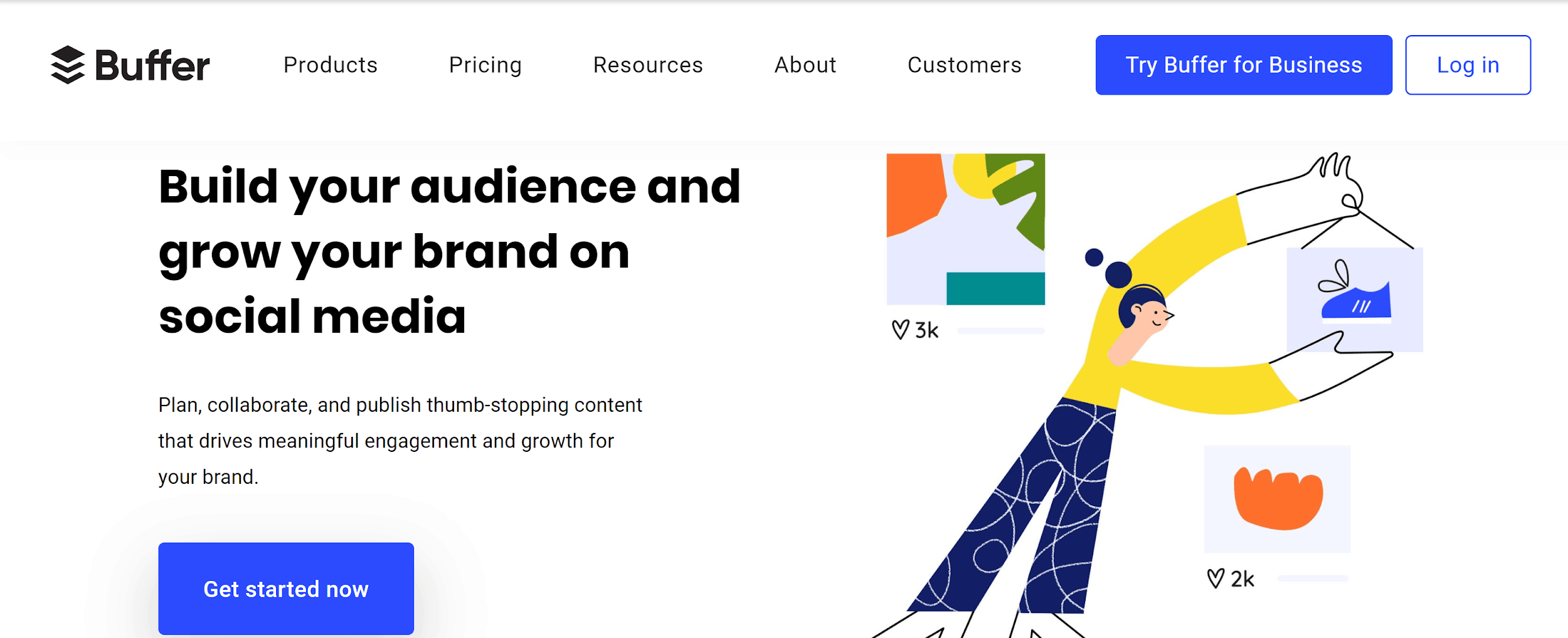 Buffer is one of the more popular social media scheduling tools.
You can publish, analyze data, engage your audience, and collaborate with your team using the platform.
It has a free version and a streamlined dashboard that makes it easy to schedule and view your social media posts.
Pros: One of the main advantages of Buffer is that it will be easy for you to use if you have experience with social media management tools. From one dashboard, you can create and schedule images using Buffer's photo editor, Pablo. Since Publish and Analyze are separate features, and there are many plans within each category, pricing is very flexible.
Cons: The buffer tool isn't a complete solution. Posts can be scheduled and analytics can be viewed, but you cannot respond to comments and messages, engage with other people's posts, etc. This was possible previously using a feature called Buffer Reply, but it has been removed.
Our Verdict
The market is flooded with social media scheduling tools, but only a handful are considered useful. In some cases, the platform's price is too high or the platform doesn't offer what you need, while in others, the platform's performance is not satisfactory. We hope our analysis will give you a better idea about which tool can best meet your needs.
Are you interested in finding more about marketing tools? Plumfind Academy has guides and tutorials you can check out. If you have any comments or questions, please do not hesitate to contact us. Let us know what you think!
About the author(s):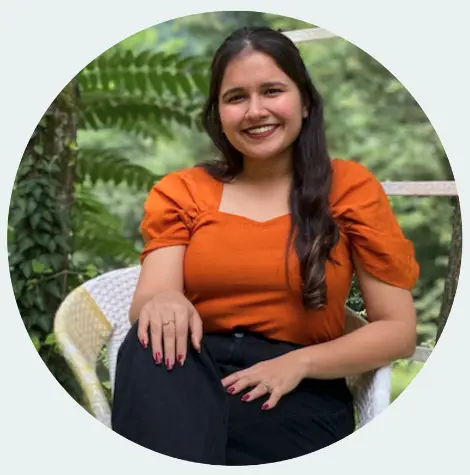 Natasha Joshi
Natasha is our Social Media Manager, a law student, and marketing enthusiast. She loves strategizing different methods to get results. A big fan of startups and their psychological aspects. She loves to travel and interact with locals to know the history of those places. She lives in Jaipur, India.